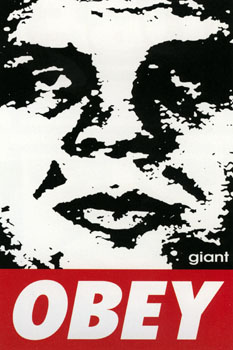 I've been away from the blog for a while, obviously, in part because I tend to go absolutely ass-over-teacup whenever I have to move more than a few feet out my door so moving back up to Toronto from the corn fields of Pennsylvania took a lot out of me. But the other thing holding me back was the question of how exactly to get at the material in this article.
See, I want to talk about Shepard Fairey, who I've mentioned before as kind of a louse
who rips off leftist artists as part of a kind of pseudo-leftist undirected capitalism-as-rebellion marketing scheme
. And I want to talk about what a sell out he is, and I want to talk about it because the brilliant Melissadoom (who suggested the title of this article to me) strongly urged me to on the basis that she, and probably a whole lot of other people, had no bloody clue who this guy was until I started talking about him directly.
Just to recap, he's the guy who did the Obama HOPE poster. Yeah. That dude. And the Andre the Giant OBEY dude. Now available on shirts and hoodies and sexy eveningwear probably and who knows what else. So, you've seen his work, probably, but I wouldn't be surprised if, like Melissa, and like a number of other folks I've talked to since starting this article, you didn't really know anything about him or his work or his practice of ripping other artists off.
But I just couldn't quite get a handle on things, and I think I've finally figured out why:
I'm just not sure it's relevant anymore to say that someone is cashing in or selling out. I'm not sure that charge carries any weight with people. And I'm going to have to loop around a bit and dig into the meaning of some of these notions in both pop culture and the art world before I can swing back to Fairey. This isn't an expose on Fairey, exactly, because
the article I've linked to before on his work
does a darn good job of explaining who he is and how he works. Think of it instead as an explanation of why buying a hat with OBEY on it not only isn't politically radical, it's actually part of a depoliticization of art and culture that does nothing but serve corporate interests and superstar millionaire artists.